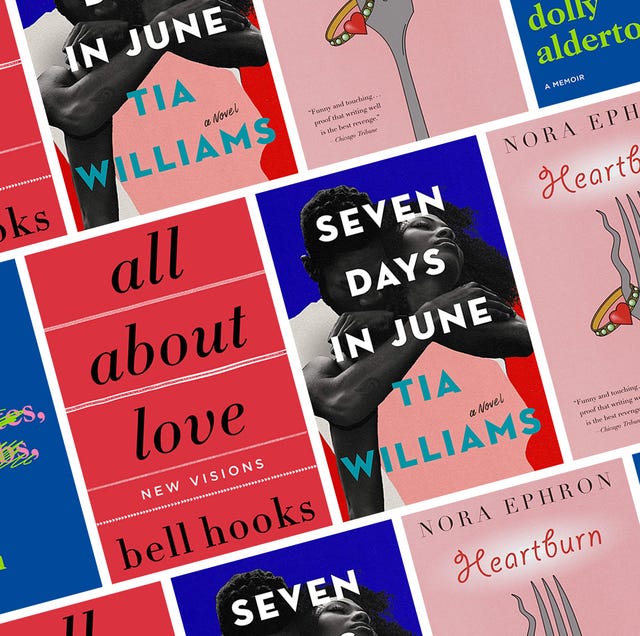 Courtesy William Morrow & Company, Grand Central Publishing, Harper Perennial, Vintage
'Tis the season for star-crossed romance, unrequited love, and emotions galore. Though Valentine's Day is usually spent watching sappy romantic comedies or munching on heart-shaped candy, never underestimate the pleasure of reading a great love story. With titles ranging from erotica and nonfiction to novels and poetry, we offer you 10 books guaranteed to infuse your days with a little more tenderness.
All About Love: New Visions by bell hooks
You can't talk about love without referencing bell hooks. The late scholar and author published All About Love in 1999, yet it's still as relevant as ever. hooks tenderly explores love as an act of care and compassion, for others as well as yourself. As she so brilliantly states, "The word 'love' is most often defined as a noun, yet we would all love better if we used it as a verb."
How Stella Got Her Groove Back by Terry McMillan
For the fiction lovers, you can't go wrong with Terry McMillan. In this classic love story, an immensely successful (read: overworked and stressed) single mom named Stella decides to take a trip to Jamaica for some R&R. While sunbathing in the tropics, she meets a man who defies all of her expectations and makes her rethink what she thought she knew about love. When you've finished the book, make sure to watch the film starring living legend Angela Bassett.
Seven Days in June by Tia Williams
When former teenage lovers Eva and Shane reconnect at a literary event, their chemistry is still as strong as ever. The erotica writer and novelist, respectively, then spend the next seven days reconnecting and reminiscing amidst a hot Brooklyn summer. But when old wounds begin to rise to the surface, the two writers reevaluate their second chance at love.
Heartburn by Nora Ephron
The late Nora Ephron gave us romantic comedies for days—from When Harry Met Sally and Sleepless in Seattle to You've Got Mail and Heartburn, which was based on her 1983 novel of the same name. Loosely based on her own life, Heartburn is a story about love and betrayal. When a pregnant cookbook writer named Rachel finds out that her husband Mark is in love with someone else, chaos ensues. In true Ephron fashion, the story is still undeniably cozy and includes several recipes throughout the book (like cheesecake, pot roast, and bread pudding). The film, starring Meryl Streep and Jack Nicholson, is a delicious compliment.
Delta of Venus by Anaïs Nin
Erotica and Valentine's Day go hand in hand, right? In this short story collection, Anaïs Nin explores desire and intimacy through a slew of assorted characters. Among the many stories, a Parisian hatmaker leaves her husband and becomes reacquainted with her sexuality and in another, a disguised woman seduces strangers at her whim.
Everything I Know about Love: A Memoir by Dolly Alderton
In this funny and heartfelt memoir, the journalist and former Sunday Times columnist Dolly Alderton revisits the first time she fell in love, got her heartbroken, and then mended it back together. Personal anecdotes are coupled with cultural observations as she tries to make sense of love, romance, and partnership.
Love Poems by Pablo Neruda
What's more romantic than poetry—or better yet, poetry written on an Italian island? The Nobel Prize winner Pablo Neruda ventured to Capri to write this quintessential collection of love poems. It even inspired the idyllic and heartwarming 1994 Italian film Il Postino.
The Lonely Hunter: How Our Search for Love Is Broken: A Memoir by Aimée Lutkin
This time of year has the potential to bring on feelings of loneliness and Aimée Lutkin can relate. In her new memoir, the author embarks on a year-long journey to uncover society's "deep biases against the uncoupled" by going on tons of enlightening dates and diving into the latest research about singlehood.
Foreverland: On the Divine Tedium of Marriage by Heather Havrilesky
The acclaimed Ask Polly advice columnist Heather Havrilesky is back with her latest book about intimacy and relationships. This time, she's examining her 15-year marriage. In this refreshingly candid portrait of a marriage, she peels back the gritty and poignant layers of a centuries-old institution and its role in the modern age.
The Art of Online Dating: Style Your Most Authentic Self and Cultivate a Mindful Dating Life by Alyssa Dineen
How does one perfectly curate a dating app profile? Stylist Alyssa Dineen may have the answer. In The Art of Online Dating, she offers a step- by- step guide to making sure your IRL personality matches your URL persona. Learn how to craft a cute bio, choose the perfect selection of photos, and even decide which app is best suited for you.
This content is created and maintained by a third party, and imported onto this page to help users provide their email addresses. You may be able to find more information about this and similar content at piano.io